CIFGA is devoted to improve human health. We oer a broad range of certifies reference materials and quality controlled standards in more than 30 countries.
Since our origins, we were focused on developing valuable compounds from natural origin. Our specialization is the design, production, purification and characterization of standards for analysis and research through biotechnology processes:
Flexible and personalized services for dierent sectors: agrifood, textil, etc.

Metrological traceability, uncertainty values and reliable measurements.

Analytical methodology expertise: HPLC-MS/MS, UV, fluorescence, NMR, etc.

Interdisciplinary team specialized in complementary knowledge areas: Chemistry, Food Technology, Biology, Aquaculture, etc.

Confidence and reliability accredited ( ISO 17034, ISO 9001, ISO 14001).

Advances in technology, in line with current legislation, allow highly sophisticated analysis to be carried out to guarantee the quality of products in a wide range of sectors, such as food, fashion or pharmaceutical products.

Commit to food safety and public health, the research, and knowledge developed by CIFGA allos the apllication of biotechnology to dierent areas, expanding our work not only in certified reference materials and standard of natural origin but also un synthetic compounds, stable isotopes standard, kits, and customized services to eet the demands of our customers.
CIFGA offers a comprehensive and international service through authorized distributors
Our experience and knowledge in the development of CIFGA products, allows us to her specific services on small-scales biotechnology production, and also on characterization, isolation and purification through flash and medium pressure chromatography, as well as preparative HPLC.

Research activities usually demands specific compounds to be tested, in terms of quantities or mixtures dierent than those used for analytical procedures. We can assist you to prepare customized products based on your research work:
Specific mixtures of compounds can be prepared based on accurate weighting of CRMs or QCSs to be used for research.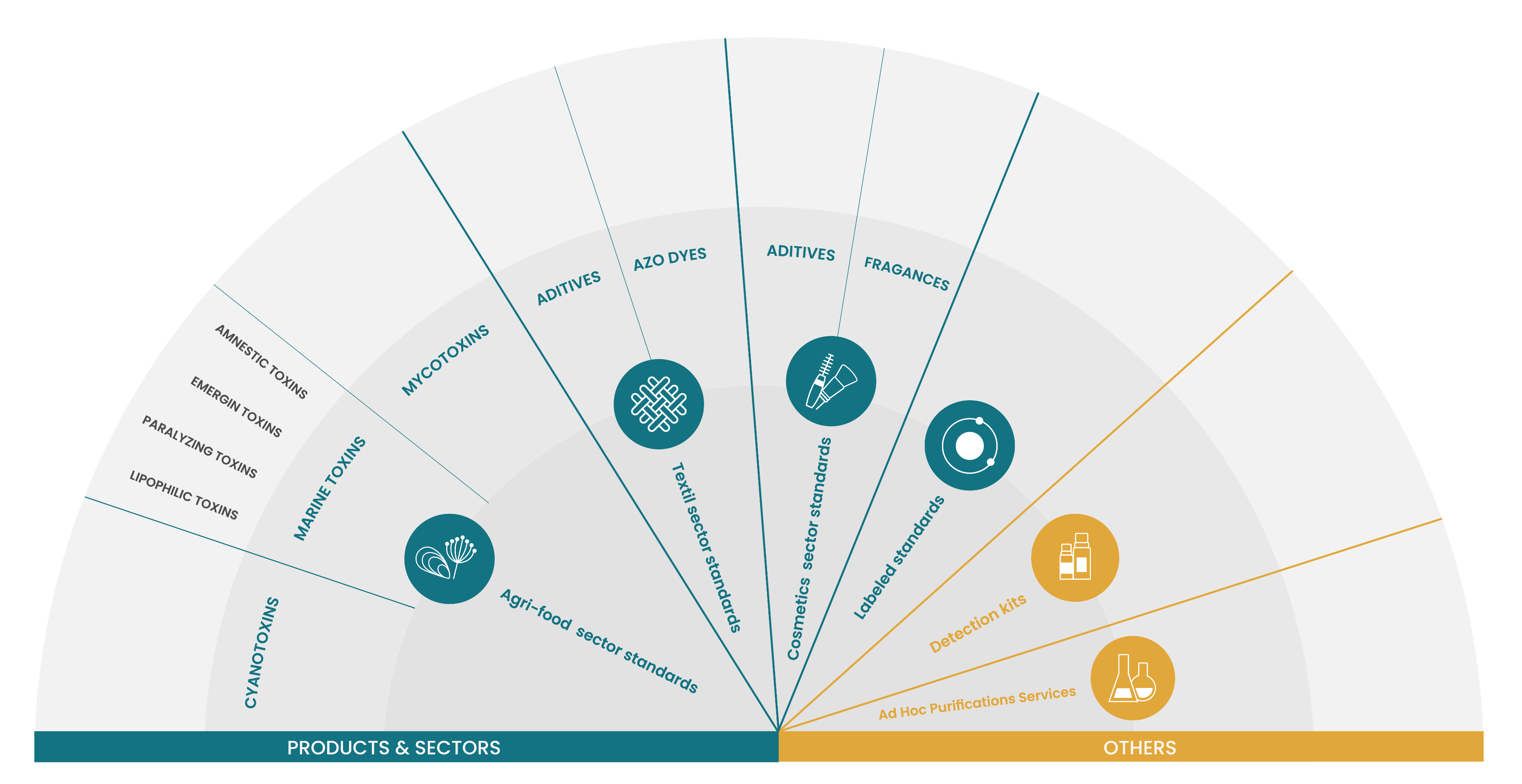 In 2019, CIFGA became part of the AMSlab Group with the aim of facilitating the development of new business lines and reinforcing existing ones. The companies belonging to the AMSlab Group provide analytical services for the quality control of consumer products in dierent sectors such as fashion, food, veterinary or pharmaceutical and is currently positioned as one of the market leaders in the textile sector. For its part, the CIFGA Laboratory's activity focuses on the production of standards for analysis and research. Therefore, the synergies between both biotech firms allow, among other objectives, the expansion of the catalog of standards for the textile and cosmetic sector or the development of kits.